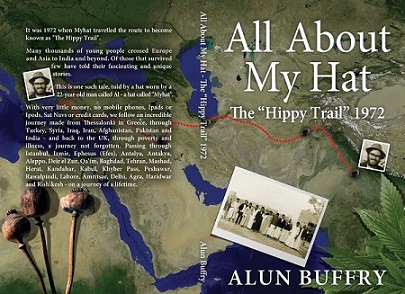 AVAILABLE THROUGH BOOKSHOPS AND LIBRARIES
PAPERBACK NOW AVAILABLE ON AMAZON ISBN 978-0-9932107-1-6 ALSO ON KINDLE
In 1972 a small group of Britsh students set out in a cheap van with little money to travel to Turkey and two of them on to India through countries few visit as tourists or travellers today - from Turkey, through Syria, Iraq, Iran, Afghanistan and Pakistan,
The journey involved hitch-hiking across Syria and Iran, staying a few days on an Iranian opium farm, later provided with hashish by the Afghan border customs official, many visits to Chicken Street and Sigis, onwards through the Khyber Pass and Pakistan to Delhi, the Holy Ganges cities of Haridwar and Rishikesh and leading eventually to illness and short stays in hospital in Delhi, Kabul and Tehran.
Parts of the route became known as "The Hippy Trail" / "Hippie Trail", although in those days we preferred to call ourselves "freaks".
A journey of learning and a journey of disaster, the story told by a hat called Myhat
READERS' COMMENTS
Athena Marini, Athens, Greece, wrote "Alun, I really enjoyed your book and read half of it in one sitting!! It's a good book for people to get a sense of how things were like back then...and certainly a good book for those of us who made the Hippie Trail, as it certainly captures what the whole experience was like but also what people were like too in all those countries we visited. What an adventure you guys had and what amazing hospitality and friendliness you experienced so often in these places which the western world regards as backward!!! It makes you wonder who is backward. There seemed to be an innocence and trust on your part but also on the people you met ... something which in these days is sadly lost I feel. I was so taken by your account of a family taking you in and giving you food while they watched you eat saying "guests eat first, then the men, then the women". Amazing! And having you sleep in their house without knowing who you were! And this happened often to you as it did for me on occasion. And which guard at a border crossing these days would give you coffee and ask you to sleep outside the border control office till it opens next day? Now there is so much suspicion and at the borders you've got to go through electronic check gates as well as putting baggage through. You were very fortunate and looked after by Providence I think as well as by people.... Setting off with little money and going to these strange places was very brave of you but it characterizes our hippie times. The book captured the whole atmosphere of that time for me and I kind of lived it all again. I hope your book travels much."
Joan Bello, US: "I am quite sure that I have just finished reading what should be recognized as an all time classic. Alun Buffry is a master storyteller. All About My Hat kept me spellbound from the first page. This is a precise recounting of true adventure that every hippy-minded person will be in awe of regardless of age. Thankfully, Buffry has found a delightfully unique literary vehicle that completely disposes of the usual ego distraction of so many biographical accounts. It is effortless reading, nothing superfluous, no fillers, with an ease of language and a precision that is admirable. My Hat is a constant reminder of the camaraderie shared among all cannabis supporters around the world. Bravo!!"
Richard Cooper, Nottingham, UK: "Enjoyable read with a mix of adventure and history. I would highly recomend it"
Winston M, Surrey: "Great read and so much interesting found it hard to put down."
Kevin T, Norfolk: "A Brilliant book once i started it i could NOT put it down i would recommend others to read it."
Roger H, Suffolk: "Good Grief!"
Ann C, Norwich: "This is a fascinating book packed with stories about adventures on the "Hippy Trail" in all its reality. It was harsh with extreme discomfort, heat and dust and sometimes illness. It took strength and endurance ...but then... the rewards were a rich awareness of other cultures and beliefs. "I recommend it warmly.and did I mention, it is so funny!"
Roger W E, Swansea: "My Hat is becoming an independent friend, as I read on - he/she/it is competing with you! Roger WE"
Chris P, Essex: "Awesome read fella, most enjoyable."
Ian L, Norfolk: "Liked it a lot, very entertaining, definitely a good read, well done Alun."
Frank K, W Sussex: "Loved the book Alun and have shown friends, also travellers with a Hippie hat. Great days to remember for you I bet. I like the way you laid out the text too, great read."
Mark S, Norfolk: "Loving the book."
Melissa D, Italy: "It is hard to define "All About My Hat": part travel guide, with interesting facts about the places Al and My Hat visit, partly a tale of a young man meeting new cultures, and finding his way in the world, and partly a reflection of the times, of an era that has now passed: when travelling still felt like a step into the Unknown, and not just into another queue for a cheap flight.
"By turns My Hat is funny, sad, informative and reflective. Alun Buffry is a natural storyteller and weaves this tale with delight and good humour, leaving the reader wondering: what will happen next to My Hat? Will he ever get out of his 'Ed?"
Simon B, Norwich: "You were lucky to survive - loved the book."
Kat, London: "I have just finished your book Al. Really enjoyed it. Hoped for a love affair between you & Miriam, but maybe she will join our group! Diane was mysterious, and hard core. Three tabs of California Sunshine. WOW!!!!
Marion G, Suffolk: "Marion Gaze An easy enjoyable read. It took me right back to those times of footloose carefree travel and spontaneous adventure....usually ending in illness or loss of ones money! Though i was part of the start of the journey, Alun's Hat remembers a lot more than me, which is why there will not be a book about my overland trip to India a year or so later..."
Ivor Garfiled, RIP, Norwich:
IN HIS HAT

I've seen something inside my hat.
Dreams and visions, assure you of that.
The chap that wears me knows an awful lot,
He's artistic and clever and fits that slot.
Me and my pal together smoked some
Of the best hashish, some awesome.
We travelled the 70's, you bet your stash,
To go to great places, find the best hash.
Across to India, we sampled delights.
Those beautiful people, shame for their plights,
Yet there we found more hashish to smoke,
Met great people and shared a toke.
It's a most pleasurable hat,
Comfy and cosy through smoking all that,
And when he sleeps, I feel secure,
My buddy who wears me makes me sure.
Yes, I can honestly say it's been a pleasure,
To have been a part of all this leisure.
I was meant to sit on my buddy's head.
But I always wondered why his eyes were red.
INTRODUCTION
Let me introduce myself, I am called Myhat.
I am quite an old hat. I was made decades ago. I had been passed many times to a few heads, yet had seldom found one that I felt really comfortable on.
About 40 years ago, everything changed. I found myself upon a head that I had a close affinity with and I found myself seeing, hearing, smelling much through this young man, Al - and even picking up on his emotions and thoughts.
I was lost then for several years, stored in a cupboard until, once again, I found myself on Al's head and now I can tell my tales.
Al and I spent some nine months together on our first trip, visiting many big cities and several small villages, in eight countries, all different, all new to myself and my new head – an adventure of a lifetime.
I had sat on Al's head and witnessed all sorts of strange places and events until we had travelled to India and then to the UK.
When Al arrived back in the UK, he was quite ill, having suffered from a problem called Hepatitis and also dysentery. Al went to his parent's house in Wales and then to hospital. But whilst he was in that hospital, I was never on his head after he had arrived, and ended up in a box in a storage cupboard.
I didn't know what was happening. Why was Al leaving me? How long was I to be here? What would become of me now? Would I get a new head? Would I get more adventures? Would I be treasured or neglected?
Then one day, Al took me out of my box and put me back on his head.
That is how it came that I found myself back on Al's head. I have been on and off Al's head for about forty years and now I can tell my tales. Al had done a lot of travelling over those forty years.
I had always been able to understand any language spoken and understood by whatever head I was placed on - but never been able to utter anything myself – until now! I have discovered that I can help Al remember the places we had experienced together and I somehow I managed to place the idea of writing my tale for me. Anyway, that idea came upon Al and here he is, writing this for me!
As well as understanding the thoughts, memories and feelings of my head – I felt as he felt - I have been able to see through the eyes, hear through the ears and even taste through the mouth and tongue of my head – Al – and over the days developed a strange connection so that so long as Al was nearby, I could watch what was going on around him – even when not on his head!
I watched, I listened and I remembered – and that is how I come to write this story through a head called Al.
A DIP IN THE GANGES
After a pleasant afternoon with Ashok and his family, they drove back to Haridwar and Al was dropped off back near the railway station where, once again, he slept on the wooden bench.
The following morning after a breakfast of fruit, yoghurt and bread, Al took a stroll around the town. It seemed very old. The streets were crowded with people going about their days amidst the cows.
After a while he found a bridge over the river Ganges. It looked greener on the other side, with trees to sit beneath and watch the powerful currents pass. So he crossed the bridge and turned right to follow a rough path running besides the River.
He spotted an orange-robed elderly and bearded man sitting cross-legged beneath a tree, a semi-circle of younger people sitting facing him.
Al knew that they were called Baba's, as he himself had been called a few times.
"Maybe he's one of those guru teachers," Al thought.
Back in England Al had read about the pop group The Beatles who had taken up with a Guru called Maharishi Mahesh Yogi who had taught them how to meditate and himself gained great publicity and popularity – maybe it was something to do with that.
The orange-robbed 'teacher' shouted something and motioned to Al to go over and join them and sit down. Al complied. The elderly teacher smiled and asked Al where he was from and why he was in Haridwar, in a broken English with an almost German accent.
Al explained that he had travelled overland from the UK, simply on an adventure and that he was here because he had met a Spanish man in Delhi who had recommended it as a good place to stay for a while. The teacher laughed and from under his robes produced a chillum. The chillum was prepared, wrapped in a safi – a small piece of cloth that served as a sort of filter – the tobacco hash mixture poured in and the lit chillum passed around so that everyone including Al had a good puff.
The teacher-come-chillum-maker – the Baba – asked Al if he had a few rupees for another chillum. Al handed over a small note. A young boy suddenly appeared from amongst the nearby thickness of trees, took the note, ran off into the trees to return seconds later with a small lump of black hash which he passed on and which was instantly made into another chillum and smoked.
Al stayed a short while and as nothing was being said and he was quite high on the hash, he said his goodbyes and left, carrying on in the same direction as before. Within minutes he was sitting with another group under another tree, smoking again.
"This is the good life!" thought Al, so high that he was beginning to feel like he was in a Holy city in India. "By the Ganges!"
He left the second group and walked some hundred yards before he had the idea that immersing oneself in the Ganges was supposed to purify the soul.
"Well," he mumbled under his breath so only he (and I) could hear, "Why not, it's hot and I'll soon dry off."
Across the river he could see a long walled building complex with steps going down to the River. As he got closer he could see steps going down on this side too. A few steps, "I should be OK."
The water was moving very fast. Al thought maybe he would not immerse himself, just splash himself all over.
"After all, I can't swim." So he put down his bag, took me off his head and put me on his bag, took off his sandals, and stepped down and in to the water.
With some hesitation, one step, second step, third step – then his feet were swept from under him. He felt himself falling backwards into the water which he knew would sweep him away. Too high to feel real fear, he envisioned the situation if he was to be swept down the Ganges – he would have to try to float. He had to hope he would be saved, but who would swim in this? How many bodies had ended up like this. Was this really Holy Water?
As he fell he reached out and somehow managed to grab a chain that was attached to the land, maybe for mooring a boat. He grabbed the chain but the force of the water was now tugging at his body like a hungry monster and now splashing his whole body with his head about to go under.
As his head went under he felt a wrenching on his arm but he pulled stronger, now his head was out, now his body, now he was clambering up the steps, drenched and coughing up Holy Water. He made it to the grassy bank and collapsed on the floor.
I felt so many emotions and thoughts and images flooding Al's brain.
"So fucking stupid! I could have died."
"Am I cleansed? Am I saved? Don't feel any different."
"God I'm stoned! I shouldn't have done that. What would have happened if that chain wasn't there?"
"Glad I took Myhat off!"
So was I.
Had I been in that water I would surely have been swept away for ever.
But it wasn't long before Al was dried out and sitting with yet another group smoking another chillum.
After a while, that particular teacher said that they had seen Al go into the River and now his soul was clean. That was about all he said, except he asked Al if he wanted some chai and said that "Mahatma is coming, he will take you for chai." Al liked the spicy milky tea drinks.
Al wondered if this was the Maharishi Mahesh Yogi or maybe some local lord or lord's son, a rich man probably. Everything was so strange that Al did not know what to expect next. I was wondering about who this 'Mahatma' was - maybe he made hats?
After a while a man in orange robes accompanied by a small group of Indian-looking people approached. Apparently he was the Mahatma. He exchanged words with the teacher under the tree and said to Al: "OK, you come now for chai and this evening we will do our 'Arti' parade through town and then you join us and come to Ashram maybe?" They walked a while, crossed a bridge and entered a small chai shop where the Mahatma said something to the owner or waiter – who did not look too pleased – pointing at Al who, seemingly somewhat disgruntled, delivered to his table with "No charge, Sir" and the Mahatma and his entourage left, saying "Join us for Arti parade."
There were still a few hours before evening so Al decided to go and wait on his bench back at the railway station.
That was when everything changed.
----------
THE EFFIE ENIGMA, THE MOTHERLESS MOTHERS BY ALUN BUFFRY: PAPERBACK AND KINDLE
TIME FOR CANNABIS - "THE PRISON YEARS, 1991 to 1995 BY ALUN BUFFRY: PAPERBACK AND KINDLE
FROM DOT TO CLEOPATRA BY ALUN BUFFRY: PAPERBACK AND KINDLE
OUT OF JOINT: 20 YEARS OF CAMPAIGNING FOR CANNABIS - PAPERBACK AND KINDLE
ALL ABOUT MY HAT: THE HIPPY TRAIL 1972 - PAPERBACK AND KINDLE
DAMAGE AND HUMANITY IN CUSTODY BY ALUN BUFFRY AND WILLIAM D HUTCHINSON: APERBACK AND KINDLE
CANNABIS: CHALLENGING THE CRIMINAL JUSTICE SYSTEM BY DON BARNARD AND ALUN BUFFRY
A BRIDGE PLAYERS' MANUAL ESPECIALLY FOR BEGINNERS - BLEEDING TRUMPS
ALUN BUFFRY PHOTOGRAPH GALLERY