BESSIE ELLEN LOUISE PALMER born 1885, Wellington, Somerset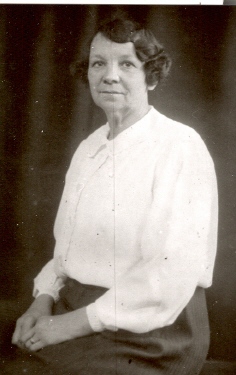 The surname Palmer was originally derived from the Old French word "palmer," which was taken from the Latin word "palma" meaning a palm branch. The name was originally a nickname for someone who had returned from a pilgrimage to the Holy Land. It was customary for such pilgrims to bring back a palm branch as proof that they had completed the journey. Spelling variations include: Palmer, Pallmer, Parmer and others. First found in Yorkshire where they were seated from early times and their first records appeared on the early census rolls taken by the early Kings of Britain to determine the rate of taxation of their subjects. Some of the first settlers of this name or some of its variants were: William Pallmer, who settled in the Barbados in 1685; Abraham Palmer settled in Salem in 1630; Edward Palmer settled in Virginia in 1635; Francis Palmer settled in Plymouth Mass. in 1621. (Above is a small excerpt from our 1800 word history)
Motto Translated: The palm is for virtue.
BESSIE ELLEN LOUISE PALMER / LANGLEY
Daughter of JOHN PALMER (born 1851, Somerset), an engine driver ina brickyard, and Eliza Sphia Blackmore, born about 1847 in Oake, Somerset.
Married ALFRED LANGLEY (born 1880, Cardiff), in 1911 in Barry, Glamorgan
CHILDREN of Alfred and Bessie Langley:
         VERA born Barry, 15 November 1911; died Barry 1991;
                    married STANLEY RICHARD BUFFRY in 1947 (1913 – 1985)
                    Children Alun Buffry born 1950, Barry; Gwyneth Buffry, born 1953, married Philip Playle
         William John born Barry, 25 June 1913; died Barry June 1994;
                  married Lorna Bobbett (1916 – 1986)
                  Daughter Pamela Ruthborn Barry; married Laurence Hill, died Barry 1995
         Doris, born Barry, 22 Aug 1915; died Reading March 1991
                  Married Joseph Charles Orpin in 1937 in Reading, Berkshire(1908 – 1987)
                  Daughter Cecilia Ann, born Wokingham, Berkshire, 1942,  married Robert Barber 1965
         Phylis, born Barry 13 May 1920; died Barry, 1975
         Ellen (Nellie), born Barry 1918; died Barry 1958
         Sarah (Sal), born Barry 1923; died Nov 1993;
                  married …. Taylor;
                  married Sidney Crum 1947: adopted Victor and Anne
---
JOHN PALMER, father of BESSIE ELLEN LOUISE PALMER
Born about 1851 in Wellington, Somerset, married Eliza Sophia Blackmore, born 1847 in Oake, Somerset, marriage possibly in 1873. Eliza Blackmore, born about 1847 in Oake, Someset, who was the daughter of Robert and Sarah Blackmore formerly Wood.
John William Palmer was the son of Robert Palmer, born Glastonbury 1816
Children of JOHN PALMER and Eliza Sophia (Blackmore)
         James Robert, born Wellington, Somerset, 1874
         Frederick J, born Wellington, Somerset, 1877
         Elizabeth Sarah A, born Wellington, Somerset, 1880
                  Servant in Barry 1901
                  Married Edmund George Eveleigh 1906;
son Arthur Eveleigh (1907 – 1973)

married Hilda Phipps in 1935 (1907 – 2001)

Mary Jane Sophia, born Wellington, Somerset, 1883: married John Drew in 1909 and emigrated to Canada

Thomas William, born Wellington, Somerset, 1888

Ellen Elizabeth J (Nell), born 1891, Wellington, Somerset; died Barry 1950
1901 England Census:
JOHN AND ELIZA PALMER are in Barry with BESSIE ELLEN (15), Thomas William (13)  and Ellen (10).  John and Eliza's ages are given same as 1891 – wrong by 10 years.
1891 Wales Census:
JOHN PALMER is in Castleand Street, Barry, lodging with John and Elizabeth Flage, working as a mason's labourer
1891 England census:
ELIZA PALMER (42) living in West Buckland, Somerset with James (16), Fredeick (14), Elizabeth Sarah (11), Mary (8), BESSIE (5), Thomas (3) and Ellen (1 month; the census was incorrectly written or transcribed and this should be Ellen)
1885, Bessie Ellen Luoise born 1885 - John Palmer listed as engine driver in a brickyard. His wife is Eliza Sophia (Blackmore)
1881 England Census:
JOHN PALMER (31) and ELIZA SOPHIE (was Blackmore) (32) are in 10 Piccadilly, West Buckland, Somerset, with James R (6), Frederick J (4) and Elizabeth Sarah A (1):  Ann Blackmore is a lodger. She may have been related to Eliza's mother, Sarah Blackmoor.
1871 England Census:
John Palmer's parents, Robert Palmer aged 55 and "Ann" aged 53, Mark age 17 and Eli age 14. John is absent
1861 England Census:
John Palmer is aged 11, living Ham Village, West Buckland, Somerset, aong with father Robert Palmer a carpenter born in Glastonbury about 1816 (age 45), mother Hannah (age 43), Mark (7) and Eli (4)
1851 England Census:
John Palmer is shown age 1, living in 7 Ham Village, West Buckland, Somerset, along with father Robert Palmer a carpenter (age 35), mother Hannah (age 35), James (9) and Edwin (5)
ROBERT PALMER, father of John Palmer
Robert Palmer born about 1816, Glastonbury, Somerset
Married Hannah, born West Buckland, Somserset about 1818
Children of Rober Palmer and Hannah
James, 1842, West Buckland, Somserset

Edwin, 1846, West Buckland, Somserset

John, 1850, West Buckland, Somserset

Mark, 1854, West Buckland, Somserset

Eli, 1857, West Buckland, Somserset
1871 England Census:
Robert Palmer aged 55 and "Ann" aged 53, Mark age 17 and Eli age 14. John is absent. Living in 7 Ham Village, West Buckland, Somerset
1861 England Census:
Robert is shown living in Ham Village, West Buckland, Somerset, a carpenter born in Glastonbury about 1816 (age 45), wife Hannah (age 43), John (11), William (9), Mark (7) and Eli (4)
1851 England Census:
Robert Palmer is shown age 35, living in 7 Ham Village, West Buckland, Somerset, a carpenter, along with wife Hannah (a weaver, age 35), James (9) and Edwin (5), John (1)