TIME FOR CANNABIS - THE PRISON YEARS
1991-1995

By

ALUN BUFFRY BSc, Dip Com (Open)

** AVAILABLE THROUGH AMAZON **
Ever wondered what it's like to spend time in prison for helping not harming. This book may give an insight into the harm done by the system and how it could be changed to bring out the goodness.
PLEASE GIVE THIS PAGE A TWEET AND A GOOGLE + VOTE
Now at Amazon as PAPERBACK and Kindle ISBN 978-0-9932107-6-1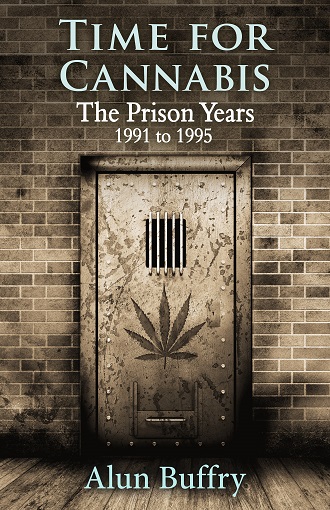 THE EFFIE ENIGMA, THE MOTHERLESS MOTHERS BY ALUN BUFFRY: PAPERBACK AND KINDLE
Time for Cannabis - The Prison Years" is a true-life story of the journey
through arrest, time on remand, trial and conviction and time served in 4 UK prisons.
This book is a valuable comparsion of prison regimes and personal experiences of the damage and the healing possible,
and how the treatment of prisoners can affect them upon release.
All this in prisons that claim their aim is to treat inmates with humanity.
=======================


INTRODUCTION (part)
This book is not meant to be humorous, although a certain amount of humour is unavoidable, partly because the nonsense and inconsistencies which I came up against during my time served, and partly because sometimes it hurts so much that one has to either laugh or cry. I fully intend to criticise the prison and the court systems, but not, I hope, unnecessarily, and, I also hope, positively.
This is not meant as a horror story, a fiction, or an analytical work, although I will admit in advance to colouring and flavouring events, changing names, and interspersing actual events with thoughts of the occasion. This is to increase the readability of what might otherwise be a very 'flat' book, considering the flatness of the system.
I consider myself very fortunate, even in this experience, as I have previously travelled to many different countries, and witnessed the different languages and customs therein, which I feel has enabled me to adopt a more detached and somewhat enlightened attitude to the strangeness which I constantly experienced. Many inmates are either the well learned 'old lags' who have been in and out of the system for years, or else are younger and more naive.
I was also fortunate to have already received an education, thus being able to further it using the institution's facilities and classes, able to write and read easily, unlike many of my comrades, and thus help the time pass easily and productively. I was also fortunate enough, for want of a better phrase although it may sound as selfish as it is, to have first arrived at a prison along with some acquaintances, and to recognise a few faces already there who I could turn to for help with day to day life. Once again I sympathise greatly with the young, scared and lonely convict or detainee.
Although it is only natural that I feel some anger and resentment against the way I have sometimes been treated, in particular by the courts, this emotion has never overwhelmed me.
I see so many things wrong with the world that Mankind has created, not least the way in which selfish and greedy individuals have polluted our beautiful planet and continue to do so, perhaps to the point of no return and the devastation of possibly all life. I fail to see how the Governments on this world, who often seem to me to be evil, can allow the future to develop in this way, ruining the chances of happiness and health for their descendants. In the sixties I grew up under the constant threat of nuclear devastation imposed by individuals so many miles away, whose identities would never be known to most of us. But this being bad enough, at least there was a chance of survival.
As the sixties have become the nineties there are so many problems in this world, any one of which will destroy us as individuals or as a race, including Aids, acid rain, radiation poisoning, the 'Greenhouse Effect', the ozone depletion, the pollution of the air, sea and land, space junk, chemical additives in our food and water, and on and on and on.
READERS' COMMENTS
"EC of Norwich: I recommend this book to anyone who worries about mans inhumanity to man; It is a gripping read from page one and is the personal account of the authors experiences in different prisons in England. You will be appalled by the inhumane treatment handed out in some prisons and reassured by prison regimes such as the one he experienced at Blantyre House. You will be gripped,I guarantee it."
=======================

THE EFFIE ENIGMA, THE MOTHERLESS MOTHERS BY ALUN BUFFRY: PAPERBACK AND KINDLE
MYHAT IN EGYPT: THROUGH THE EYES OF A GOD by ALUN BUFFRY
FROM DOT TO CLEOPATRA BY ALUN BUFFRY: PAPERBACK AND KINDLE
OUT OF JOINT: 20 YEARS OF CAMPAIGNING FOR CANNABIS - PAPERBACK AND KINDLE
MAYHAT IN EGYPT: THROUGH THE EYES OF A GOD BY ALUN BUFFRY:
ALL ABOUT MY HAT: THE HIPPY TRAIL 1972 - PAPERBACK AND KINDLE
DAMAGE AND HUMANITY IN CUSTODY BY ALUN BUFFRY AND WILLIAM D HUTCHINSON: KINDLE
CANNABIS: CHALLENGING THE CRIMINAL JUSTICE SYSTEM BY DON BARNARD AND ALUN BUFFRY
A BRIDGE PLAYERS' MANUAL ESPECIALLY FOR BEGINNERS - BLEEDING TRUMPS